CoMotion is the Sole Agent for Vanraam Specialist Bikes in Ireland. Van Raam produces uniquely special needs bicycles for people with a disability and specialises in tricycles, scooter bikes, wheelchair bikes, tandem bikes, double rider bikes, and low step-through bikes (also known as comfort bikes). We operate a Nationwide Mobile Showroom so our customers can try before you buy. Please contact our sales dept to see when we're next in your area.
Easy Go Mobility Scooter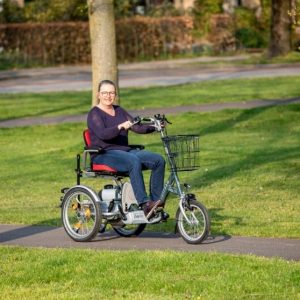 Scooterbike for adults who want to cycle.
Bicycle, electrical bicycle, and scooter bike 
Compact, stable, and agile
You are still cycling
Possible to move without pedaling
Easily to switch between three different types of driving
Can go forwards and backwards
Short turning radius
Fits through a normal door
More compact than a mobility scooter
Anti-tip wheels
Pedal support (smart e-bike)
To receive our Brochure and any additional information you may need please Contact Us