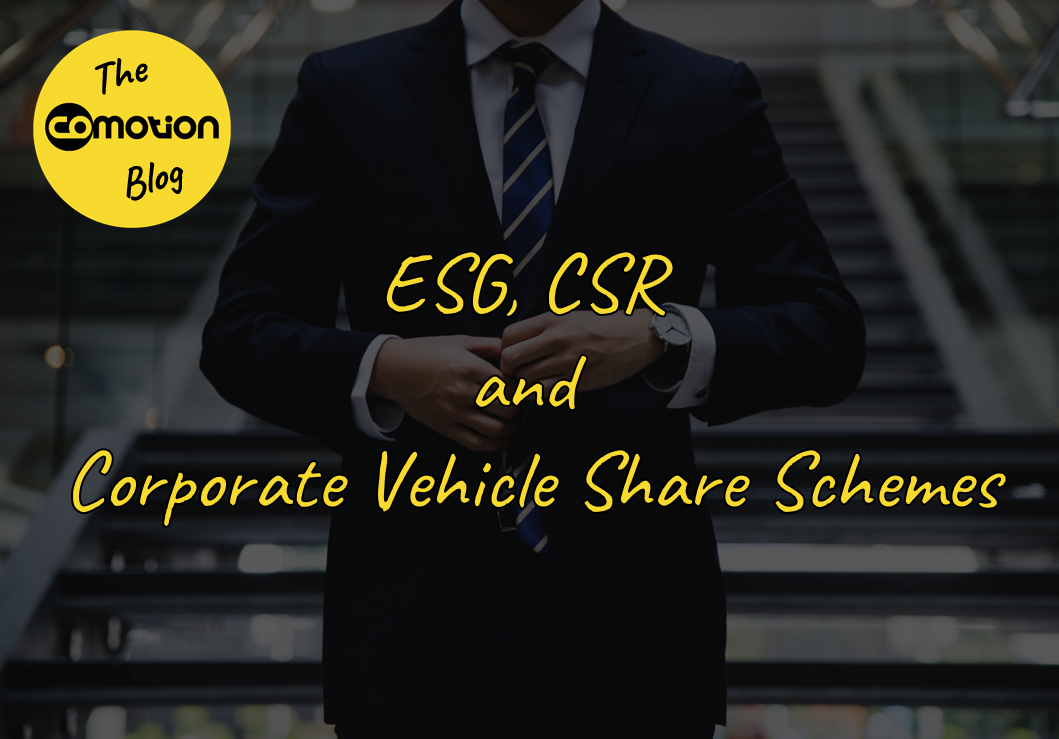 ESG, CSR and Corporate Vehicle Share Schemes
Environmental, Social, and Governance (ESG) and Corporate Social Responsibility (CSR) are two major aspects of modern business providing a framework for better transparency and social accountability. ESG and CSR illustrate how a company manages the impact it has on the environment, people (employees, suppliers, etc) and the diversity and inclusiveness for its employees and the greater community. They encourage socially conscious business practices that do not negatively affect the wider community, employees, consumers, or the environment.
Corporate Vehicle Share Schemes are a positive  way for companies to increase their ESG and CSR ratings. Vehicle sharing or car/van pooling provide employees with needs-based mobility, which will reduce congestion levels and environmental impact.
Greenhouse gas emissions can be lowered infrastructurally; by developing extensive cycling routes and behaviourally by promoting vehicle and ridesharing. By encouraging the use of pool vehicles over personal vehicles the average person can reduce their annual mobility emissions by 33-67%.
CoMotion share schemes focus on moving people, not just vehicles. This helps combat social exclusion in companies and communities that may not have access to adequate public transport. As a result share schemes can broaden peoples access to new opportunities.
Investors are now looking for insights into a company's sustainability credentials; employee transportation and costs are significant factors. One shared car can replace eight privately owned cars. By implementing a shared vehicle scheme a company can reduce the number of under-used vehicles in the company's fleet and mileage expenses. As a result, this will increase the company's profitability, improve resource management and ESG ratings and make the company more investor friendly.
By providing employees with access to shared vehicles, companies can ensure:
· Their fleet is being used to full capacity.
· Reduce the use of grey fleet (private cars for business use) and taxis and thus significantly reducing the mileage and operational costs.
· Utilise current mobility trends,
· Advertise the business by branding the pool vehicles.
· Decrease the impact the company is having on the environment.